After some discussion due to the strong winds and big gusts it was agreed we would race and seven boats took part. Loose Knots (10614, Mark Penny and Sarah Mason) chose to extend their lunch!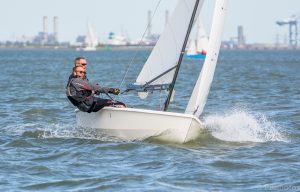 Course 74 was chosen which kept the fleet in Gillingham reach. A flood tide and a westerly wind meant a run start but not a spinnaker in sight and three boats had a reef in their main!
Ubique (11080, Chris Parish and Kerry Worsfold) led the way, closely followed by Moonshine (10618, Tony Alexander and Jon Moon) and Knot Rushin' (11405, Philip Clarabut and Eddie Hobart-Smith) with Quicksilver (10947, Stewart and Catriona Coltart), La Rive (10615, Alberto Quaglia and Jim Fairleigh) , Wild Thing (11315, Mike Pimm and Pete Dilley) and Hard Tack (7899, Jonathan Hood and Hugo Davis) following.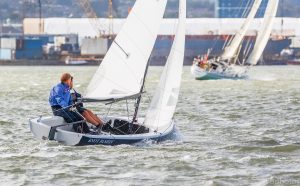 Buoy 24 was the first mark and, although Moonshine put their spinnaker up, Ubique held them off and rounded the mark first followed by Moonshine, Knot Rushin' and Quicksilver.
A beat up to  buoy 30 saw Moonshine and Knot Rushin' crossing tacks and both closing the gap on Ubique who had sailed close to the North Shore. Ubique held the lead round  buoy 30;  running back to 24 buoy with Moonshine, who had pulled away from Knot Rushin', in hot pursuit. Both Ubique and Moonshine hoisted their spinnakers, as did Quicksilver, who quickly caught up and passed Knot Rushin'.  The other three boats were not far behind.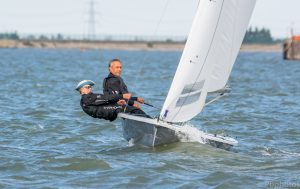 Ubique kept up their lead to buoy 24 before heading home. Moonshine held their position  but just behind them and closing the gap and crossing tacks were Quicksilver and Knot Rushin'. The wind went a little lighter in Heartbreak Reach and Knot Rushin' with a full main pulled away from Quicksilver and was closing in on the reefed Moonshine. Ubique kept a comfortable lead and crossed the line in first place. Moonshine held off the chasing Knot Rushin' for second place.