Looking at the forecast last Wednesday, we had the prospect of the hottest day of the year for Friday.  Were things good for Saturday or not!?
Saturday's race started in a force 3 to 4 but with the chance of increasing later.  We had a perfect beating start with wind from the east which gave us two laps of a windward leeward course. Full rough weather clothing was chosen as the temperature had plummeted from the previous day (so much for global warming!).
Chris Parish's Ubique (11080) crewed by Rob Crockett, an old hand having been brought out of retirement, and Hercules Hound (10686, Brian and Liz McKenzie) started from the south shore with that pair going tack for tack; an excellent display of covering even at this early stage of racing, was this going to be the way of the day?
In correspondent's corner (3rd place), some way back from the leaders, was Muffin (10974, Richard Stone) with a new crew, Sarah-Jane Hutchinson .
Loose Knots (10614, Mark Penny and Sarah Mason) was following fairly closely as we headed to buoy 24, our windward mark.  There was much chatter and singing in that boat so no chance at that point of sneaky pass.  Wild Thing 2 (11315, Mike Pimm and Pete Dilley) was holding onto a close fifth and ready to capitalise on any errors of judgment by boats ahead.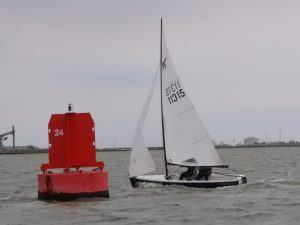 Hard Tack (7899, Jonathan Hood and Hugo Davis) brought up the rear. I think the wooden boats in those conditions struggle to keep up with the MK4 Hartleys, but it was a valiant effort to complete the course.
Positions remained the same until the final run home.  Ubique and Hound flew the kite with very few problems, Hound finally took the lead close to the finish, leaving Ubique in second place by only six seconds after ninety minutes of racing.
The remainder of the fleet followed with Muffin (the Commodore's barge) ready to try the kite. Unfortunately we were hit by a large gust which caused us to sail over the half hoisted spinnaker (not a good move).  Loose Knots grabbed the moment and sailed in full control with the kite set past us! We gathered in our kite and headed after 'Knots'. Very sensibly they dropped the kite along with Wild Thing 2 as the gusts appeared to be permanent.
Muffinator was now in close battle with 'Knots' through Mears and we eventually retrieved our original place.  Finishing order was as in the early part of the race.
We were all tired and glad to be back on terra firma with no shark points* gained.
For the interested, the Wayfarer fleet trophies include a rubber shark awarded to the boat with the most capsizes during the season.
Richard Stone, Muffin 10974