Adult sail training started in big breeze!
This season's adult informal sail training kicked off with some strong winds (force 5-6) for our adults. Everyone booked into training had sailing experience and so we could adapt the planned session to make sure Saturday could be safe and fun. We went out 4 up in a squib and fully reefed aboard a member own keelboat. Everyone sailed well in the breezy conditions and, going on the smiles, had a wild time. Big thanks to the member volunteers Mike and Gerry supporting the epic sail in the squib.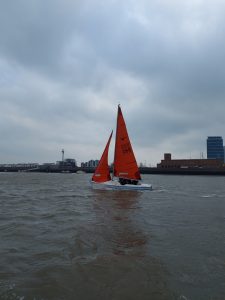 There is opportunity on the bank holiday weekend (Saturday 30th April) for members to bring a friend to training. Training starts at 9am. We will be off the water with plenty of time to refuel over lunch, then if your friends want to, they can join me in a powerboat to view your race start. Book training by completing a booking form from the office by end of Thursday 28th.