Cruiser Class Newsletter
and Fitting Out Supper DetailsFebruary 2022
January has now gone and many of you are busy getting your boats ready for the new season. Whilst on the subject of boat maintenance please do not leave ladders either propped up against your boat or unlocked around the boat park.
The bar is now open on Tuesdays for drinks only , why not come and join the Tuesday Group for drinks and general Chit Chat .
The new CCTV system is now up and running. You may recall that the Cruiser Class paid for extra cameras in the car park that will monitor our boats in the winter and our cars in the summer when we are away sailing.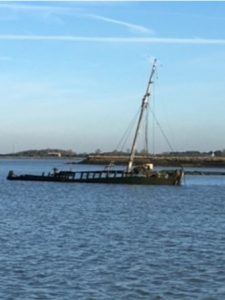 15th-18 April The first trip will be at Easter to Conyer .
 Leave MYC at 1244hrs at high tide to Queenborough on Friday the 15th April. Over night at Queenborough leaving at 1000hrs to Conyer on Saturday 16th April arriving at Conyer Creek 12 23 hrs, 1 hour before high water . Leave Conyer 1438hrs ( or whenever you are floating😂) on Monday the 18th return to MYC .
30th April Benfleet. ( early May Bank Holiday )
 This one means a early start from MYC , 0800 hrs from MYC on the 30th April to get the high tide into Benfleet at 1330 hrs . Leave Benfleet on 2nd MAY at 1434hrs .
 14th May Queenborough weekend
 2nd-4th June MYC Regatta
Come and race in the white sail class. If you don't want to do the whole regatta just sail in the white sail race on the Saturday. Let's make the Cruiser White sail the biggest class again this year.
11th June Queenborough weekend.
 9th July Montgomery Race and Queenborough weekend
 This year the Montgomery Race will be on Saturday the 9th July. Normal rules apply start 1000 hrs MYC . This is also a Queenborough Weekend so the finishing line will be Queenborough Spit Buoy ( for those of you that like to push the rules you have to round the Montgomery first ) this also gives everyone the chance to stay the night in Queenborough.
25th July Heybridge Basin (limited places )
This is a chance to visit Heybridge Basin on the Blackwater and explore the Chelmsford Canal in your dinghies.
Leave Sheerness 25th July to the Blackwater. It probably will not be possible to get into Bradwell so you will need to pick up a buoy in the West Mersea area. 26th July to Heybridge Basin: it's a 2 hr trip but essential you are there by high water 1255 hrs.
27th 28 July get the dinghies out and explore the Chelmsford Canal or just enjoy the area.
29th leave at 1425 hrs. high water for Bradwell or where ever .13th August  Queenborough weekend
17th September Queenborough weekend (change from the normal 2nd Saturday )
8th October Queenborough weekend
12th November AGM and laying up supper
Cruiser Class what's app group
 This is for members to let others know of trips they plan or just jolly's . If you want to be part of this group please contact Bob Turk  rjturk@talktalk.net
If you want to join in any of these trips please let Bob Turk
(  rjturk@talktalk.net )  or John Marshall ( seen4you@gmail.com ) know .
Racing
 All the entry forms and documents are now on the club web site
That's all for now .
John Marshall  and Bob Turk