Whatever your interest in the water, Medway Yacht Club is the place for you.
Welcome to our sailing club!
We are a community of passionate sailors who come together to share our love for the sport, the open water and the history of the River Medway. At our club, we place a strong emphasis on youth sailing, racing and cruising, offering a range of programs and opportunities for sailors of all ages and abilities to develop their skills and pursue their passions, all based from our wonderful location in the sun at Upnor.
For the young sailors in our club, we offer a dynamic and engaging RYA youth sailing program, designed to introduce them to the sport and provide them with the foundation they need to grow and thrive as sailors. Our experienced coaches and instructors work with each child to help them build confidence, develop their skills and discover their love for sailing.
For those who are looking to race, our club is home to a thriving racing community. Our races are open to sailors of all skill levels, and we offer a variety of events and series throughout the year, including one-design, handicap and team racing. Whether you are a seasoned competitor or just starting out, there is something for everyone at our club.
For those who prefer to cruise, we offer a range of opportunities for exploring the waterways and discovering new destinations. Our Cruiser Club is open to sailors of all abilities, and we encourage participants to join together to share their love for sailing and the open water. Whether you are looking for a day out, a relaxing weekend getaway or an extended adventure, there is something for everyone at our club.
In conclusion, we are a dynamic and inclusive sailing club, dedicated to supporting sailors of all ages and abilities as they pursue their passions for sailing, whether that is racing or cruising. Whether you are a seasoned sailor or just starting out, we invite you to join us and become a part of our vibrant and welcoming community.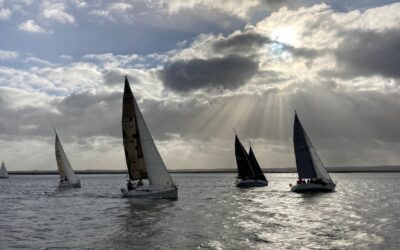 'Medway Yacht Club Autumn Series Sunday's race 4 was always going to be exciting for the 13 entries a strong South Westerly breeze with gusts touching 30 knots. Start for both classes was at buoy 22 up river to 27, down river to Z2 for class 1 and 12 for classes 2...
read more