The SS Richard Montgomery was a liberty ship from the Second World War full of ammunition that sunk off the Isle of Sheppey in 1944.
Every year, the Medway yacht club set out en masse to inspect or it's just an excuse to go for a jolly good sail . So on Saturday, the 29th of July 23 boats set off for the annual inspection. They were probably more than 23 boats, as a few sneakily slipped out from other moorings down the river. Some doing a gate start from Gillingham Marina.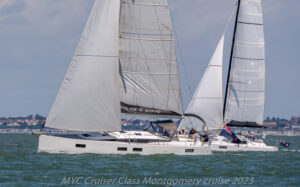 We had been forecast, rain, pestilence, and other acts of wraith However, the wind gods were kind to us and the blow was from the Southwest which meant all the boats had a lovely reach down the river in winds 15 to 20 kn . However it was a different story when the Montgomery was reached . Once round the Montgomery a most ungentlemanly form of Sailing sailing was required, going to windward!
The first boat round the Montgomery was Absolute Diamond hotly pursued by the Pogo Lamaris and then Coco. It was then a beat back into Sheerness harbour, some of the fleet mistook the radio call to meet in Stangate and scattered to Queenborough.
Stangate saw about 10 boats rafted up, enjoying lunchtime, drinks and food. Others decided to return to the club.
For those of you who want to know who the winner was you will have to wait for the laying up supper. However it is not too late to try and influence the outcome and may I suggest any red wine from Majestic Wine shop bin number 16. It won't help you to win the trophy, but it will make the class captains happy.