7 sonatas started on an MYC line Run start Ebb tide under a glorious sun with a gentle breeze.
Some crews were a man down after the A2 shenanigans!
Well done to "The Major" for setting a decent course up to 20 via a few chicanes on the way.
All got off the line cleanly we though although Andy mentioned that cry havoc looked like he was going back so maybe a bit eager on the line with a strong tide pushing us over.
So off we headed again in pursuit of the first mark buoy no 30.
Red Dwarf took the lead in usual fickle heartbreak reach conditions followed by Watersong,  Skipper , Musical Express, and the other boats were not far behind.
Just after buoy 30 all the boats ahead stood on for a while on starboard, but we took advantage of an early gybe onto port, well anticipated by our stand in for 'fore dug'! Fore David!, others soon followed.
It was a slick gybe and paid off a little, but we were still sitting 2nd last but things were looking up slightly as gains were made on the way to 23 via 26 and 27.
The last downwind leg from 23 to 20 saw a few changes in position I believe except for us… yes still 2nd last!!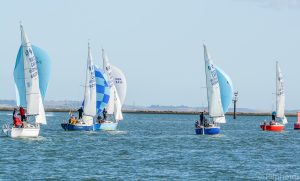 Leeward mark was rapidly approaching downhill with a strong tide under us. All spinnys were dropped and all boats rounded the mark quite closely and without much incident!
All headed for the shallows on the south shore to cheat the ebb tide.
From this point even if we all said it ourselves, we sailed well & started picking off a few snottys (nick name for a sonata) in case a new reader!
And so began a short tacking duel along the south shore towards the next mark MYA 1. Each boat was trying to push his opponent a bit further to get them on the mud, like you do!!
It was a test of faith in your depth sounder and we were intent on pushing it to the limit. Luckily no one ran aground at the point where rob did a few weeks before!
We didn't think that Dick would get in the water and wrestle her off the mud so it would have had to been Rob again!
I think it would have been too cold for me to go in and also would have made two more hobbit footprints next to robs, this really would have thrown out those future archaeologists!!
A few more short tacks in the shallows made us some more gains before making the break across the tide again to MYA1.
Then came a slow close reach across to 24 with all the fleet slowly creeping up on the red boat again. Most went high, we went straight for the mark and Musical tried the spinny.
The red boat was the first to make the enviable decision to tack out of the tide & into the shallows of Hoo Island, all wanted to make it past Folly Point first.
Then came the tedious shallow tacking again along the shore of Hoo Island as the wind had dropped.
We managed to get in front of the red boat and caught the new incoming breeze first, but it was a very close duel and an enjoyable day.
Water song were 1st with Screwloose a close 2nd after some close cross tacking.
Most stuck the engine on to get home as had enough of fighting the tide!!
Thanks to race organisers and our safety crew
Happy days!