Medway Sonatas on tour – and a successful tour it was! 
6 Medway Sonatas made the trip up to the The Colne Yacht Club in Brightlingsea for the 2022 Sonata Nationals sponsored by Morgan Marine. By Saturday evening all boats and crews had safely made it and excited sailors listened intently to the briefing by the 'PRO'. A total of 31 boats had entered the event looking forward to close fought racing. 
Hospitality from The Colne started well with bargain meal deal tickets which all took advantage of meaning that Saturday evening included beers and entertainment from a local sea shanty band. Great hospitality continued throughout the week including rum bar and disco! 
The racing comprised of 11 windward / leeward races with a spreader mark and leeward gate and 1 long distance around the cans.
Although the racing was postponed by an hour each day, the fleet were treated to a consistent sea breeze for all races providing true champagne sailing.
The racing was fierce and competitive with positions on the water often being decided by just a poor hoist or bad tack. Results changed frequently each day.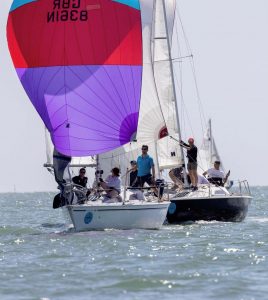 3 of the 6 Medway boats had at least one race win and a total of 14 podium finishes from the 12 races. All Medway boats had at least one result in the top 10. All Medway boats finished (nearly) in the top half overall with the following positions. 
16th – Musical Express (Ian Long) 
15th – Bluetack (Paul Sharp) 
13th – Screwloose (Paul Kirk)
6th – Watersong (Hopper, Botterill, Furness) 
3rd – BD2 (Alistair Bolton) 
1st – White Noise (J. Hewat and L. Stone).
2 Medway boats finishing at a National Championships on the podium really shows what strength we have within the club. We're led to believe this is the first time a Medway Boat has won the championship. Added to this the crews of White Noise and BD2 have all come through the club together from Cadets and thank those who have supported us along the way. Alistair also won the U25 team prize and we know they have great things to come. 
We all look forward to the trip to the 2023 Nationals at Parkstone in Poole. 
If you have been inspired to sail a Sonata please contact any of the Sonata class or class captain (Victoria Wright). Silver Lining is a club owned boat and is ready to go for racing or cruising.