Well she not only survived, but excelled at providing our members practise opportunities at approaching and recovering a person sized and weight dummy out of the water. Kindly donated to the club for this event, the man overboard dummy was thrown overboard a lot, and rescued every time. Members who took part in the training made comment that getting a person aboard is "much more difficult than I thought" and "we should practice this more often" and "wow people are heavy!".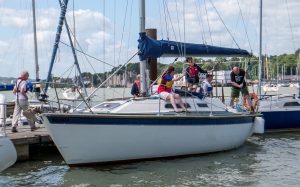 The Safety Extravaganza Event held in the morning of the 11th June was designed to be a 'hands on' type training where 'having a go' was all part of the learning experience. Activities included inflating a life raft, swimming and getting into a life raft, practice throwing a throw line, using a cruiser boom to get a person aboard from the water, getting a man overboard in a powerboat using the dunk method and the sling method. To end the morning there was a demonstration of how to safely use a handheld flare. Great to hear while such important skills were being developed the amount of laughter happening too. The RNLI were so impressed about MYC delivering such an event they made a visit too and were keen to come back to the club to offer complimentary life jacket checks for our members.
Observations from several participants during the morning was a confirmation of how useful being practiced in these skills is and the importance of having safety equipment checked and in date. Do you regularly check your lifejacket? 3 of the 6 member lifejackets checked by the RNLI on the day failed, as in they wouldn't have worked properly if needed. That's a shocking 50%. It is not just here that could be better. The RNLI representative shared at his last location where he went specifically to do lifejacket checks, he checked almost 100 lifejackets of which two thirds failed. Let's action and get ours checked so we don't become part of these startling statistics.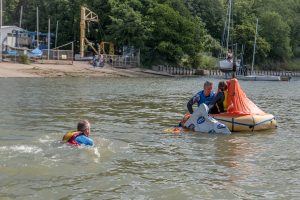 The feedback during the morning from participants, volunteers, plus external bodies was one of high praise. I would like to thank the valuable input and support in preparing for the event from Port of London Authority (loan of Ruth Lee MOB dummy), Water Safety Delivery Support Team of the RLNI, and Peel Ports. Thank you to the following member volunteers helping to run the activities, Sally, Neil, Rosie, Richard, Paul, Catherine and Sarah. Also, thanks to those members who participated in this training and added to the overall fun and satisfaction of putting it on.