Laying up Supper 12th November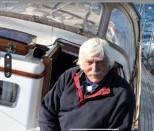 This year we have managed to get Tom Cunliffe to be our Guest of Honour and to give one of his hilarious talks. This is going to be a very popular event so early booking will be essential. Details in the next newsletter.  If you have not heard Tom speak before then you are in for a treat.
Montgomery Cruise 9th July 2022. Low water Sheerness 1435hrs
The Montgomery Cruise is due to take place on the 9th July 2022. This is not a race: it's a cruise with a purpose. If you aim to leave your moorings at 10am ish then we can go down together.
Round the Montgomery to Port!
There is a very splendid trophy to win, however how its won is a secret but you have to take part and come to the laying up supper to stand any chance.
This year will be slightly different as it coincides with a Queenborough Weekend ( book with John Marshall 07946259794) so the cruise will end at Queenborough Spit buoy. This will allow those who want to spend the weekend in Queenborough and enjoy a meal in the Queen Phillipa so to do. Of course it doesn't preclude anybody going into Stangate and staying the night.
Heybridge Basin Cruise 25th July 2022.
There is one place available if you would like to join us please let me know (Bob 07876401305). We are booked in to Heybridge lock high tide (1255hrs) on 26th  July  leaving on the 29th . Bring your dinghy if you want to explore the Chelmsford canal.
Rough plan is to leave Sheerness on 24th July sail up to the Blackwater stay the night in the Bradwell area either on a buoy in West Mersea or go into Bradwell.
Medway Marathon.
We are in need of guard boats for the Marathon. All that is required is to watch the dinghy's sail past you and tick them of on a sheet that will be given to you. You will be allocated a position on the river to anchor. If you can help please call me on (Bob 07876401305)
Cradles.
If you want a cradle this winter, please contact Bob Dudderidge via the MYC Office.
John Marshall and Bob Turk