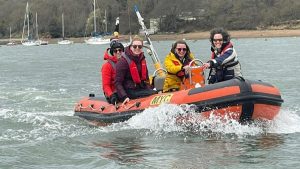 The sailing season is almost here.
Let's hope it warms up again very soon!
The Bosun and his team are working very hard to ensure the club is ready and boats are being launched.
I am very pleased to report that most of our staff have recovered from covid and thank them all for the work they have been doing while 'off-sick' to ensure the Office and Galley keeps going.
We have a very busy season ahead starting with the Cruiser Class racing briefing this Sunday, 3rd April and the first race on Sunday 10th.  Please see the website for full details.
The first Saturday, in-river racing is on Easter Saturday. The race documents are all online including the race declaration. Smartclub
The Bar and Galley provides the perfect location to enjoy a drink and a meal.  We are producing more and more delicious home-made meals and the team look forward to welcoming you.
Below you will see a list of the many events and social functions coming up.
We promise these will be very enjoyable and supporting these with family and friends is a great way to help the Club.
We look forward to seeing some of you tonight at the first of our presentations (spaces still available if you want to come along. Please call the office to book). and more over the coming weeks.
If you have any issues you wish to discuss, please do get in contact with any of the Flag Officers or our office.
Best wishes
Catherine
Rear Commodore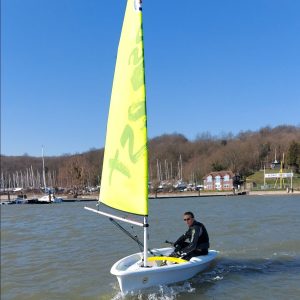 One of the Club's new RS Zest training dinghies in the recent warm weather. It hasn't all been gales and rain
Training options:
Private tuition: do contact the Chief Instructor Bryony to organise your sail or powerboat training training@medwayyachtclub.com
RYA Safety Boat course: 7-8 May. Book through Smartclub
RYA Powerboat Level 2: 21-22 May. Book through Smartclub
The 'How to pick a sailing course' training last week went well. It was an opportunity to get a flavour of what we perceive as a good racecourse, then picking out the fundamentals to what makes a good sailing course to help achieve happy, fair and fun racing. We went through the MYC 2022 racecourse cards and set courses with specific weather and tide scenarios. It was fortuitous to have people attending from across almost every fleet of Medway as this greatly added to the discussions and activities.
DATES for the Diary
Please do look at our calendar on our website for the full year's events.
Easter Friday 15th April:  Easter Friday Fish Supper Special Night – 7pm for 7.30pm for the menu click here
16 April 2022: Racing season starts
15th-18th April: The trip to Conyer – Please ask Cruiser Class captain for details.
Easter Sunday 17th April: Our famous Carvery –  12-4pm for menu click here
Easter Monday 18th April: Dragon bar open 12-5pm
Friday 22nd April: Friday Club Food Evenings start once again.
27 April 2022 7.30pm- 8.30pm Zoom meeting:  Race Box Race Officer Refresher.  Invite accessible from website.  Anyone likely to act as RO or OOD may find this helpful.
Friday 29th April: Steak night – 7pm for 7.30pm for the menu click here
30 April 11:00am- 12:00pm MYC Library: Scorer procedure. All class scorers to attend and any others interested.
Saturday 7th May: Live Music with the beautiful voice of Toni Lee, you can see & hear her on youtube. Book now through the office or Smartclub. 
14th May: First windward Leeward racing 10.30 start.
14th May: Cruiser class trip to Queensborough – Contact Class captain for further details
25th May: Wednesday Evening Racing Starts
2nd-4th June: Keelboat REGATTA AND SONATA EASTERNS. Practice race Wednesday 1 June.  Details to be announced.
11th June: Cruiser class Queenborough weekend Contact Class captain for further details
9th July: Montgomery Race and Queenborough weekend – Contact Class captain for further details
25th-29th July: Heybridge Basin visit 12th November AGM and laying up supper
6 August: MARATHON
13th August: Queenborough weekend Contact – Class captain for further details
17th September: Queenborough weekend – Contact Class captain for further details
1 October: ASYMMETRIC OPEN
8th October: Queenborough weekend – Contact Class captain for further details
12th November: Cruiser Class AGM and laying up supper – Contact Class captain for further details