CANCELLED DUE TO GOVERNMENT COVID GUIDELINES
As well as our popular fish and chip nights, we are introducing some themed food evenings from November. Booking is essential via the Office on 01634 718399, tables of up to 6. Please advise the Office/Galley of your choice of main course for the pasta and curry nights. Please be aware, these events are subject to cancellation in the event of a change to current government Covid guidelines.
Pasta Night
Saturday 7th November
Seafood Linguini
Tagliatelle Carbonara
Mushroom Ravioli with Arrabiata Sauce
Tiramisu for Dessert
Two courses £15.75
Fish and Chips
Friday 13th November
Fish and Chips – £8.50
Selection of desserts available – £4.75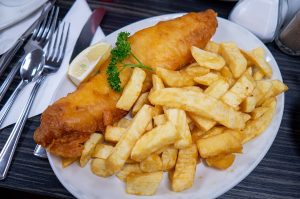 Curry Night
Saturday 21st November
Lamb Jalfrezi
Chicken Korma
Vegetable Curry
Served with rice and the usual accompaniments.
Coconut Ice Cream and Mango for dessert.
Two course £15.75
Fish and Chip Night
Friday 27th November
Fish and Chips – £8.50
Selection of desserts available – £4.75