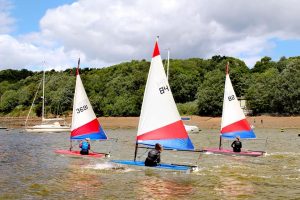 ADULT SAILING
Saturday mornings (starting from the 1st of August)
9.30 – 11.30 Beginners – starting from the beginning with single handed dinghies
11.30 – 13.30 Improvers  – if you have already some experience and you would like to improve your skills on our single handed boats.
(If you are planning to take part in Saturday Club Racing, you can finish you session around 13 and have time to have some food, rest and be ready to race!)
For the month of August training will still be free of charge and for our Members only.
YOUTH SAILING
Sunday mornings (starting from the 8th of August)
9.30 – 13.30 Snails Teams (Neptune & Mercury)
11.30 – 13.30 Laser Squad
LASER TRAINING CAMP
2nd – 5th August – 4 days camp specifically focused on Laser sailing, including training and racing.
SNAILS CAMP
12th – 14th August – 3 days camp with our Snails Team and new beginners sailors improving their skills.
TOPPERS CAMP
19th – 21st August – 3 days camp dedicated to Toppers sailors, 2 days for improvers and one for real beginners.
SRC RADIO COURSE
23rd of August – Book your space as soon as possible!
FIRST AID COURSE
16th of August – Book your space as soon as possible!
SRC Refresher
If you are SRC Certified but you are not feeling confident anymore about how to use your Marine Radio we are organising a 2 hours refresher to keep us updated and improve our knowledge on the water.
Please contact me if you are interested: training@medwayyachtclub.com
STAND UP PADDLEBOARDING
No wind at all? Jump on one of our new boards! You will have an introduction learning how to enjoy and be safe on the water, then you can relax and paddle on the Medway!
Introduction – £20 x hr (safety and skills), 1 to 1 session
£15 each if you are coming as a group
After completing the induction it is possible to rent independently the equipment for £5 half day!
VOLUNTEERS
We are happy to say that our training activities are becoming busier and busier, our beginner team 'Snails' is growing, including new beginners and young sailors with some experience already.
The Laser Team is taking back our cadet team and it is so good having them here training on regular basis on Lasers dinghies, they are getting better and better every week.
We will have camps for our young sailors and other activities, some new such as Paddle Boarding and we are back to run our shore based courses on regular basis.
We have a busy summer sailing ahead of us and we are looking for volunteers helping us to teach, assist and safety cover during our training sessions.
It could be great having volunteers helping us during our Saturday and Sunday sessions, improving the quality of the sessions on the water!
If you would like to be involved, please just let me know sending an email to: training@medwayyachtclub.com