Squib fleet at the Medway Yacht Club Regatta 2019
by Michael Morton-Wright 13 Jun 16:50 BST28-29 May 2016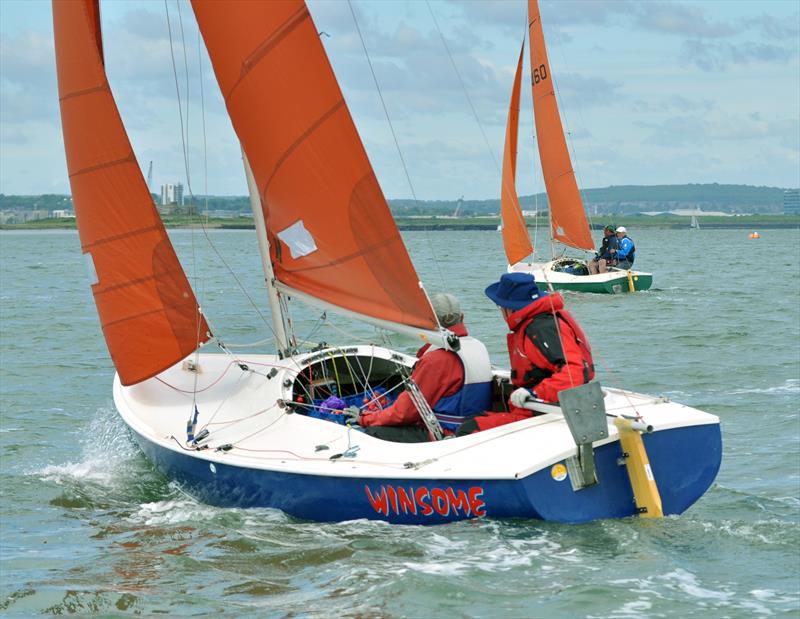 Saturday's race saw Monkey Business (289) and Water Rat (460) crossing the start line in close company which is how it stayed for the next few hours. The wind dropped then returned and after an engaging and hugely enjoyable race Water Rat finished 25 seconds ahead.
On Sunday the wind picked up and we were joined by Winsome (748). By this time it was becoming clear we were in the presence of greatness in the form of guest helm David Summerville who navigated Water Rat effortlessly in to the lead and stayed there.
David is used to greater challenges than the Medway Regatta: sailing solo across the Irish Sea in a Laser being one of his many accomplishments.
Winsome and Monkey Business were left to battle it out for second place and finished a minute apart with Winsome just ahead.
Monday saw more wind and another chance to marvel at David's teleporting ability around the course. Graciously David waited for us to catch up every so often then took off again with Water Rat sitting bolt upright and sailing unfeasibly close to the wind at speed. Winsome and Monkey Business swapped places in an increasing breeze, some of the best racing we have enjoyed.
A few inshore tacks in the shallows by the power station jetty – out of the tide and chop that was now hampering progress – saw Monkey Business creep ahead to finish a few minutes ahead of Winsome but behind Water Rat by some distance.
An inspirational few days of sailing which proved the point that it's not the boat that matters but who is sailing it.
Thanks to the race team who provided three excellent courses. Delivery of the course this year was by text message which proved a bit unpredictable, especially for those who left their phones behind.
Squib Overall Regatta Results:
| Pos | Boat | Sail No | Owner | R1 | R2 | R3 | Pts |
| --- | --- | --- | --- | --- | --- | --- | --- |
| 1st | Water Rat | 460 | Harvey | 1 | 1 | 1 | 3 |
| 2nd | Monkey Business | 289 | Wright & Amies | 2 | 3 | 2 | 7 |
| 3rd | Winsome | 748 | Studart | DNC | 2 | 3 | 9 |