Sonata fleet at the Medway Yacht Club Regatta 2019
by Paul Hopper 11 Jun 15:48 BST 25-27 May 2019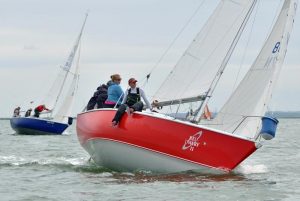 Medway Regatta 2019 © Nick Champion / www.championmarinephotography.co.uk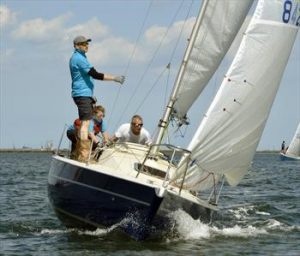 Six Sonatas made it to the start line for the first day of the Medway Regatta which
was a planned day of windward/leewards. A lightish wind which gradually built throughout the day led to some exciting racing with good clean starts off the line essential.
Day 2 was our Long Distance race out into the Estuary past the Montgomery wreck to 6a and return. The wind had picked up to a challenging Force 5 which made spinnaker work a handful.
Half the Fleet went to No2 jibs with the other half electing to remain on the Genoa. On balance, as the wind maintained its strength throughout the day, the smaller sail was the right decision and certainly the most comfortable.
The final day was only a marginally shorter race than the previous days long distance. The wind was down a notch and a full Genoa order of the day. Match racing between the top two boats Red Dwarf and Watersong saw some exciting racing down to Blackstakes.
A poor tactical decision by Watersong led to Red Dwarf taking the final race of the Regatta.
Sonata Overall Regatta Results:
| | | | | | | | | | | | |
| --- | --- | --- | --- | --- | --- | --- | --- | --- | --- | --- | --- |
| Pos | Boat | Sail No | Club | Owner | R1 | R2 | R3 | R4 | R5 | R6 | Pts |
| 1st | Watersong | 8420 | MYC | Hopper | 1 | 2 | 1 | 1 | 1 | 2 | 8 |
| 2nd | Red Dwarf II | 8087 | MYC | Hill | 2 | 1 | 2 | 3 | 2 | 1 | 11 |
| 3rd | Blue Tack | 8189 | MYC | Sharp & Lawance | 6 | 5 | 3 | 5 | 3 | 3 | 25 |
| 4th | Harmony | 8184 | MYC | | 4 | 4 | 4 | 2 | DNC | DNC | 28 |
| 5th | Musical Express | 8424 | USC | Long | 3 | 3 | 6 | 4 | DNC | DNC | 30 |
| 6th | Cry Havoc | 8048 | MYC | Lindsey | 5 | 6 | 5 | 6 | 4 | 4 | 30 |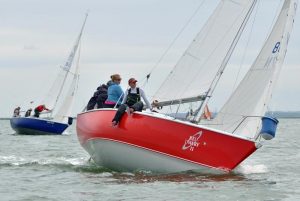 Medway Regatta 2019 – photo © Nick Champion / www.championmarinephotography.co.uk
Copyright 2019 YY Online Services Ltd. registered in England no. 7895890