Dragon fleet in the Medway Yacht Club Regatta 2019
by Chris Brealy 10 Jun 22:01 BST25-27 May 2019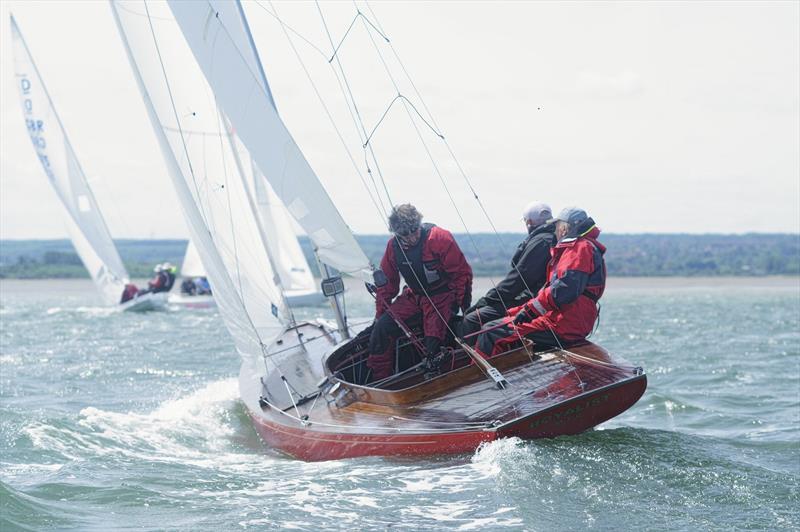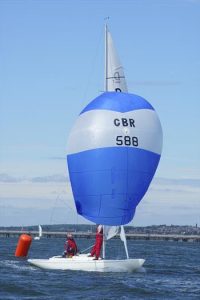 The Medway Regatta was held over three days over the May Bank Holiday. Nine dragons enjoyed some quality racing: eight windward leeward courses and one round-the-cans to finish on Monday.
The series was dominated by Fit Chick 753 (Simon Raw, Tim and Teresa Wilkes, Steven Harris). They won six of the races and would have won a seventh but for being adjudged OCS in race 6. This caused a one point difference between them and OCD 675 (Harris, Brealy, McKenzie) going into the last race due to there being no discards. But Fit Chick won the start in the final race and defended their lead to win comprehensively and leave OCD second overall.
This long race round the cans was held in ideal conditions on Monday with a steady Westerly wind and two good beats against the tide next to Thames Port. There were gains to be made by going further into Stangate Creek and crossing the spit at its shallowest point.
Saturday's races were held in a light NW wind at the end of Long Reach near the jetty. There were two competing winds here: a NW and W which made for some difficult tactical decisions, particularly on the runs against the tide later in the day.
Royalist 455 (Dawe, Gagg, Shepherd), a classic Dragon, was very competitive and gained a second place in Race 3 and thirds in Races 1 and 7. This was the only classic dragon competing though.
Sunday had stronger Force 4 Westerly winds and four good races in Long Reach left all crews happy but tired. Race 7 and 8 were particularly interesting given that the beats gave opportunities for boats on the right-hand side to make gains, even though they were out in the stronger tide, unlike the first two races.
Molly 588 (Schupp, Staniland, Thompson) won the Vintage Trophy and were second in Race 2. Gandalf 726 (Hannant, Porter, Hammond) were third overall with 5 second places.
Thanks to Richard Stone and his team on Absolute Diamond for faultless race management.
Dragon Overall Regatta Results:
| Pos | Sail No | R1 | R2 | R3 | R4 | R5 | R6 | R7 | R8 | R9 | Pts |
| --- | --- | --- | --- | --- | --- | --- | --- | --- | --- | --- | --- |
| 1 | 753 | 1 | 1 | 3 | 1 | 2 | 10 | 1 | 1 | 1 | 21 |
| 2 | 675 | 2 | 4 | 1 | 5 | 1 | 1 | 4 | 3 | 4 | 25 |
| 3 | 726 | 10 | 6 | 5 | 2 | 4 | 2 | 2 | 2 | 2 | 35 |
| 4 | 455 | 3 | 8 | 2 | 7 | 6 | 4 | 3 | 6 | 7 | 46 |
| 5 | 823 | 5 | 7 | 9 | 6 | 3 | 3 | 5 | 5 | 5 | 48 |
| 6 | 588 | 6 | 2 | 6 | 9 | 10 | 10 | 6 | 4 | 6 | 59 |
| 7 | 597 | 7 | 3 | 7 | 3 | 5 | 5 | 10 | 10 | 10 | 60 |
| 8 | 591 | 4 | 5 | 4 | 8 | 10 | 10 | 10 | 10 | 3 | 64 |
| 9 | 710 | 8 | 9 | 8 | 4 | 10 | 10 | 10 | 10 | 8 | 77 |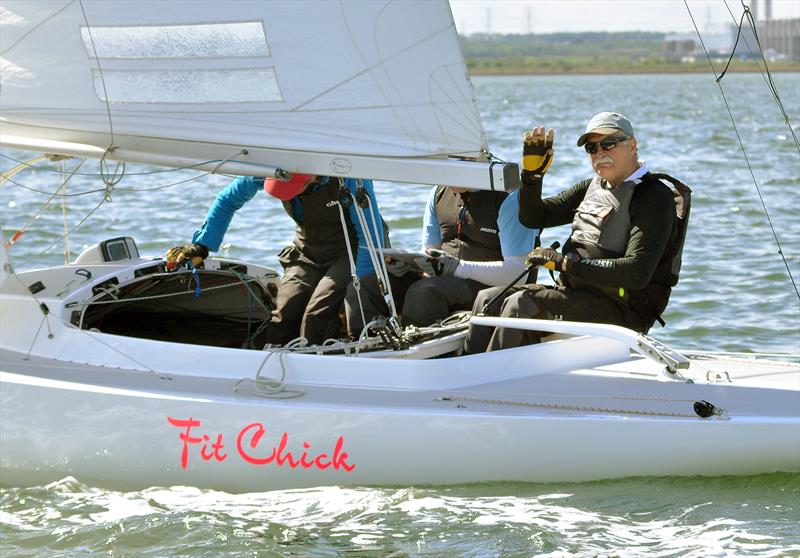 Medway Regatta 2019 – photo © Nick Champion / www.championmarinephotography.co.uk