It was inevitable that the Wayfarer Eastern Area Championship, which also counted as Event #3 in the Craftinsure National Circuit and Travellers Series, would provide a very different challenge to the two fresh water, non tidal, open meetings that had gone before as competitors looked forward to strong tides and the forecast light to moderate winds on the River Medway.
There were 22 entries for the Easterns with most of the main protagonists present. The forecast overnight was for very light conditions on Saturday with slightly stronger breezes expected on Sunday. This, combined with Spring tides, would make interesting and difficult conditions for the competitors and race team alike.
Saturday dawned bright and virtually windless. The skippers briefing was held and all the usual information was imparted along with the decision to postpone for an hour. A reconvened briefing extended the postponement for another 60 minutes. All this time the RO was venturing downriver to look for wind which would be strong and stable enough to race. At the third time of asking all systems were go and the fleet headed for Gillingham Reach where the race team set a windward/leeward course off the Hoo Island shore in 5-7 knots of Easterly wind. By now the tide had turned so the beats with the ebb tide under the racing boats were short and the runs were long. Two races were held in this part of the river both won by Guy Marks and Mel Titmus (Bough Beech SC) going away. Runners up in the first race were Richard Stone and Catherine Gore (Medway YC) who took a liking to the conditions while third was John Goudie and Sam Boniface (Wilsonian SC). Runners up in the second race were Bill Whitney and John Shelton (Shoreham YC) while the podium was rounded off by Mark and Jane Lee (Medway YC) who were having a good day near the front of the fleet. The racing was very close with good starts at a premium. Surprisingly, rule observance was good at the windward mark but not so admirable as boats rafted up at the end of the uptide running legs. Those who could get away in clear air from these melees were at a considerable advantage.
In truth the second race was a short one because the river was draining rapidly and the leeward end of the start line was nearly ashore, so the race team relocated to the upriver end of Gillingham Reach, setting a start line off Gillingham Marina with a very short beat to the windward mark and a longer run and beat back to the start line for two laps. This third race was also won comfortably by Guy and Mel. Brian Lamb and Sam Pygall (Wilsonian SC/Medway YC) started to make their charge and finished second in this race with Bill and John coming third.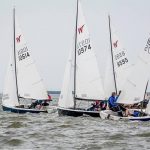 Comfortable overnight leaders were Guy and Mel. Bill and John were lying second while Andrew and Tom Wilson (Datchet Water SC) lay third through consistent, if not for them stellar, results.
Back at the Club the fleet was greeted with free beer and rock cakes while competitors discussed the highs and lows of their day. Later, there was a champagne reception and an excellent dinner. MYC Commodore, Mark Penny, celebrated his highest ever placing in an open meeting (5th in race three, and didn't he not let us forget it…..well done Mark and Gail) by setting one of his traditional quizzes. No quiz rounds on Kent this year (visitors from Derbyshire breathed a sigh of relief) but strangely there was a round on body parts with one of the tables made up almost entirely of medics!
Sunday's wind forecast was a bit more promising but we woke to fog, a gentle Irish mist, and no wind. Another postponement was signalled. However on this occasion the wind started to fill in after a short time and the fleet headed off to Pinup Reach for three more races in winds that topped out at perhaps 8-10 knots. The race team set triangle/sausage courses in a North Easterly which clocked right during the late morning requiring a significant reset between races. Once again three races were completed with some incredibly close racing especially at mark roundings.
What a difference a day makes. Race 4 began with Guy and Mel flying off the start line like a roasted stoat. They led for the first lap but then over stood the windward mark allowing through first Stewart and Catriona Coltart (Medway YC) and then Brian and Sam and Richard and Catherine who finished in that order. Meanwhile, ante post favourites Andrew and Tom uncharacteristically finished seventh dropping them off the podium overall.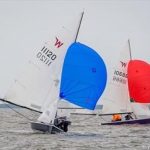 Andrew and Tom must have given each other a half time talking to because in probably the best wind of the weekend they shot off the start line in race 5 never to be headed. John and Sam collected their second podium of the weekend by finishing the race as clear runners up while Richard and Catherine continued their fine form in third. Meanwhile Guy and Mel had their worst race of the weekend to date finishing in 6th place. Was there going to be a twist in the tale of this event.
The final race of the weekend saw Guy and Mel winning the pin with Andrew and Tom a couple of boats above them. Andrew and Tom led at the first windward mark with Richard and Catherine close behind. Guy and Mel were in a battle for third with Stewart and Catriona and Brian and Sam. Andrew and Tom and Richard and Catherine had a race long battle but the Wilsons just took the gun for their second win of the day. Richard and Catherine were close runners up with Guy and Mel a short distance behind in third.
Overall, Guy and Mel held on to become the Wayfarer Eastern Area Champions 2019. By winning the final race Andrew and Tom pipped Richard and Catherine for the runners up spot.
Between them, Guy and the Medway YC Wayfarer Class Captain, Mike Pimm, thanked the RO and his team on the committee boat and support boats, galley and bar staff, and everybody who had helped organise the event along with the event sponsors, Craftinsure, Hartley Boats, Pirates Cave, Chesley Storage and Shepherd Neame Brewery.
The next event in the Craftinsure National Circuit Series will be the Southern Area Championships at Shoreham YC on 15/16 June. See https://wayfarer.org.uk/ for more details.
Overall Results:
| | | | | | | | | | | | | |
| --- | --- | --- | --- | --- | --- | --- | --- | --- | --- | --- | --- | --- |
| Pos | Sail No | Boat Name | Helm | Crew | Club | R1 | R2 | R3 | R4 | R5 | R6 | Pts |
| 1 | 11120 | Ultimate Fiasco | Marks G | Titmus M | Bough Beach | 1 | 1 | 1 | 4 | ‑6 | 3 | 10 |
| 2 | 11093 | Restless | Willson Andrew | Willson Tom | Datchet | 6 | 4 | 4 | ‑7 | 1 | 1 | 16 |
| 3 | 10974 | No Name | Stone Richard | Gore Catherine | MYC | 2 | ‑9 | 6 | 3 | 3 | 2 | 16 |
| 4 | 11170 | Whizo | Lamb Brian | Pygell Sam | Wilsonians | ‑9 | 7 | 2 | 2 | 4 | 4 | 19 |
| 5 | 10688 | Big Dipper | Whitney Bill | Shelton John | Shoreham | 4 | 2 | 3 | 5 | ‑10 | 7 | 21 |
| 6 | 10947 | Quicksilver | Coltart Stewart | Coltart Catriona | MYC | 8 | ‑11 | 10 | 1 | 7 | 5 | 31 |
| 7 | 11118 | Happy Ever After | Goudie John | Boniface Sam | Wilsonians | 3 | 6 | ‑17 | 13 | 2 | 8 | 32 |
| 8 | 11211 | Senior Moment | Lee Mark | Lee Jane | MYC | 5 | 3 | 9 | 10 | ‑17 | 11 | 38 |
| 9 | 10686 | Hercules Hound | McKenzie Brian | McKenzie Liz | MYC | 11 | 8 | 7 | 9 | 8 | ‑13 | 43 |
| 10 | 10673 | LBV | Roberts David | Tricker T | Bough Beach | 10 | 5 | ‑16 | 8 | 12 | 10 | 45 |
| 11 | 11012 | Intermezzo | Townsend Tim | Townsend Jacqueline | MYC | 12 | 10 | 8 | 11 | ‑15 | 9 | 50 |
| 12 | 10614 | Loose Knots | Penny Mark | Penny Gail | MYC | 13 | ‑19 | 5 | 17 | 9 | 12 | 56 |
| 13 | 11282 | Guiness II | O'Donnell Nigel | O'Donnell Belinda | Swarkestone | 15 | 17 | 12 | 6 | 11 | ‑18 | 61 |
| 14 | 8595 | No Problem | Winn Simon | Mason Sarah | MYC | 7 | 15 | (DNC) | 15 | 13 | 17 | 67 |
| 15 | 10666 | Devil's Advocate | Gibbs Roger | Bedwell Stan | MYC | (DNC) | DNC | DNC | 12 | 5 | 6 | 69 |
| 16 | 9416 | Blueberry Tart | Hamilton S | Hodge Mathew | Datchet | ‑17 | 13 | 11 | 14 | 16 | 15 | 69 |
| 17 | 11129 | Yolo | Hughes Paul | Taylor Charles | Arun | 14 | 12 | 13 | 18 | ‑19 | 16 | 73 |
| 18 | 10875 | Wild Thing | Pimm Mike | Dilley Peter | MYC | 16 | ‑18 | 15 | 16 | 14 | 14 | 75 |
| 19 | 10615 | La Rive | Quaglia Alberto | Howard Andrew | MYC | 18 | 16 | 14 | ‑20 | 20 | 19 | 87 |
| 20 | 10937 | Mbuna | Buckley James | Scimiloes Aleks | MYC | 19 | 14 | 18 | 19 | 18 | ‑20 | 88 |
| 21 | 11183 | Nomad | Weighill Mike | Martin Carl | Swarkestone | (DNC) | DNC | DNC | DNC | DNC | DNC | 115 |
| 22 | 10837 | Little Angel | Davis Jonathan | Davis Ashley | MYC | (DNC) | DNC | DNC | DNC | DNC | DNC | 115 |