The weekend of March 9th and 10th saw a brisk 20-22 knot South Westerly greet this year's crop of the 20 best Junior Optimist Sailors in the South East when MYC hosted a weekend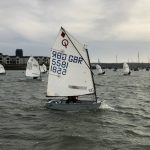 of training for the current RYA L&SE Zone Squad.
The training camp was run by professional coaches Oliver Spensley-Corfield, Josh Atherton, Peter Baddeley and Imogen Stanley.
Despite the testing 20 knots plus, the Squad session went ahead as planned. The more experienced sailors relished the challenge and surfing Oppies in balls of spray on the rive Medway become common. It was the first time that many of the sailors had experienced wind over tide in such a high winds and the morning was dedicated to boat handling, keeping upright and not planting the bow into a wave.
The afternoon's session was based on tidal starting techniques, with over a dozen back-to back short races. The flooding tide and stronger wind provided testing conditions for the sailors but watching 20 boats fighting for the best start line position while handling a 30knot gust it was easy to forget that some of these sailors are only 9 years-old.
The fo
llowing day the wind increased to above force 5 which meant the sailors spent the day in the classroom. Sessions were based on building staring strategy, using tuning runs to improve boat speed, appreciate tides on the lay line.
Special thanks to the MYC, the MYC Galley who opened on Saturday night and the MYC Bosun and his team for supporting the British Youth Team.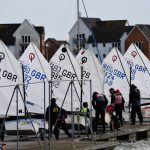 The RYA British Youth Sailing Pathway is a performance programme to develop and retain racing sailors who can represent the sport at the highest levels. The Zone Squads are the entry point into the programme. 
More on Zone Squad and the Programme explained here
https://www.rya.org.uk/racing/youth-junior/info/programmes/Pages/zone.aspx