Pirates Cave Chandlery
Sponsor A – Cruiser Class Racing at Medway Yacht Club
MYC Cruiser Class are pleased to announce that Pirates Cave Chandlery are to become the first of two key sponsors of MYC Cruiser Class Racing for 2018.
Cruiser Class Racing kicks off on the 9th April, providing yacht owners with a varied format throughout the season for both fully crewed and short-handed events.  The team at Pirates Cave Chandlery have generously agreed to sponsor the following events, by issuing redeemable vouchers* for place finishes in the following Cruiser Class events;
Spring Series (NHC Handicap):     5No. Sunday races commencing 8th April 2018
Single & Double Handed Series:  5No. Sunday races commencing 20th May 2018
King of the River Race:                  1No. Saturday race on Sunday 17th June 2018
*Vouchers redeemable against purchases in-store or online at Pirates Cave Chandlery, and valid for 6 months from issue.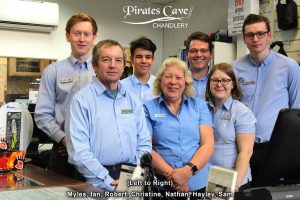 The Pirates Cave Chandlery Team
The people behind the sponsors often do not get a mention, so the MYC Cruiser Class wants to personally thank Scott Baillie and his team, consisting of Myles, Ian, Robert, Christine, Nathan, Hayley and Sam.
So next time you part with your hard-earned cash buying that "widget" for your boat, please make a point of thanking the Pirates Cave Team for their 2018 sponsorship of MYC Cruiser Class Racing.  It will go a long way in sharing the goodwill vibe . . .