Two Medway YC Wayfarers, Obsession and Intermezzo, travelled to Upper Thames Sailing Club over the weekend of 12/13 September to compete in their annual open meeting for the Splashaway Trophy. Upper Thames Sailing Club is based on the leafy river Thames at Bourne End, Bucks, and has had a long association with the Wayfarer Class.
The river at Bourne End is relatively narrow with a mixture of trees and houses on the banks apart from a stretch of about 250 metres on the south bank opposite the clubhouse where the National Trust owned Cock Marsh stretches away to Winter Hill. Sailing on this part of the Thames is a bit like sailing on Heartbreak Reach, but the wind is more patchy and the current less. River traffic is different too. There are no large commercial ships, but these are replaced by scullers, canoeists, swans and cows (grazing in the shallows). Motor cruisers are as plentiful on the Thames as they are on the Medway. All in all, a pretty backdrop to the sailing.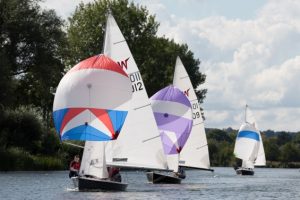 The social side is as important as the sailing at UTSC. Several local sailors were seen in the bar between races (not the finely honed athletes from MYC, obviously) and there was a sit down meal and a folk group to entertain us on the Saturday evening. On Sunday, the Race Officer postponed the afternoon race to make sure he and the competitors had time to digest their lunch. It was all very civilised, and not for nothing has UTSC been called Cowes-on-Thames in years gone by.
Overnight accommodation was as you would expect. Obsession used Richard's stealth camper, while Intermezzo used a tent. It was a bit colder overnight than expected but otherwise perfectly comfortable.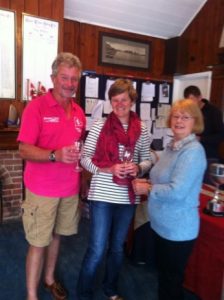 And so to the racing. On Saturday we enjoyed a puffy westerly breeze (enough for one of the competing Wayfarers to capsize) and on Sunday a somewhat fitful easterly. As might be expected in the conditions, the results for Richard and Catherine sailing Obsession and Tim and Jacqueline sailing Intermezzo were inconsistent. Both boats had moments of glory, leading races at times, but they also had periods of frustration, falling into wind holes and allowing themselves to be passed by several boats at other times. This was the same for all the competing boats apart from W88 sailed by Martin and Donna Collen who called upon decades of experience as members of UTSC and some excellent boat handling to win each race, but often after a fierce tussle with one or more of the opposition. However, in spite of their inconsistent results, most of the fleet were more inconsistent still so Obsession finished second overall and won the Notley Noggin trophy. Intermezzo finished third overall.
There was just time for a quick and very pleasant walk along the banks of the Thames on Sunday evening before returning home. Next up, the Wayfarer Inland Championships at Datchet Water SC (a very different visual experience).