Works at MYC  ~ part funded by a Sport England Inspired Facilities grant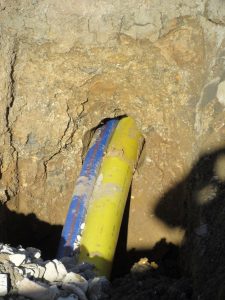 A three phase project to connect MYC to mains gas, install an upgraded water main and communications duct and upgrade our shower and heating has begun. To deliver the works the project has been divided into three phases.
Phase one ~ Gas outlet pipe and new mains water supply.
From the position just inside the Club boundary, a gas outlet pipe, new water main and a communication duct will be run a distance of 301 metres over club land to the clubhouse.  Work began on Monday, 14th September and is scheduled to be completed by the end of October, prior to the main boat laying up period.
Phase two ~ Gas inlet pipe.
The closest point of access to gas main is in Margetts Place, west of the Arethusa centre. This means laying 147 metres of inlet pipe from Margetts Place over the public highway to a position just inside the club boundary. This work is expected to start in mid to late November and be completed in December.
Phase three ~ Internal works
Upgrading of club heating & hot water systems (including office, library & steward's flat) conversion of galley equipment from bottled to mains gas and hot water system in the changing rooms. To keep disruption to members to a minimum and to fulfil agreed Club functions & bookings this work has been scheduled after the Christmas festivities and is expected to begin on 6th February 2016.