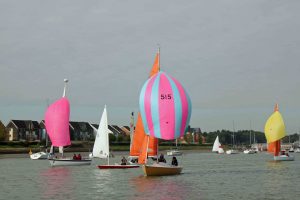 Well what a difference a year makes.
In 2014, we had SW winds of Force 5 with a thunder squall crossing the fleet with winds gusting 35-40 knots causing much excitement and some fright. This year was a considerable contrast; NW winds F2-3 with benign tides to take us out to Sheppey and to gently help us home too. I don't think that the deck of our Wayfarer got wet at all and the rescue boat teams had little to do, thankfully.
The Medway Marathon and Half Marathon have become a popular event locally with some travellers from Datchet, Bough Beech and Weir Wood Sailing Clubs joining entries from the MYC and Wilsonians, entries amounting to over 40 boats with the Wayfarers being the largest class with 14 boats. It involves sailing up to Otterham Half Acre Buoy, half way up Stangate Creek and down to S Kent and Queenborough Spit. The distance is alleged to be 26 miles or the same as the land equivalent, although I have my doubts as to whether it is in fact that far but so what, it is a long way for some dinghies and their crews and we don't want to call it a 7/8th marathon, do we. The Half Marathon is tailored for the slower boats and cadets but still involves a 13 mile race to Otterham Fairway. For the Topper entries, that is a long race.
Racing started at 0945 after a sustaining MYC breakfast for some and care about fluid intake for others where personal endurance might be a problem (I won't elaborate on the difficulties of long races, wet suits, dry suits, dignity etc). The wind was light and shifty as usual in Heartbreak Reach with the NW wind and there was a long run and reaching to Buoy 16. As usual in these conditions, some boats were luckier than others and broke away from their pack and with this wind direction, there was little beating and so little place changing. Care had to be exercised sailing up Otterham at low water but no stories about running aground made it back to the Club House afterwards.
The unfamiliar lower reaches of the Medway now beckoned particularly searching for S Kent and Queenborough Spit buoys but a long line of dinghies and keel boats made it easy for the later starters. In the bright sunshine with puffy fair weather cumulus clouds, the Medway almost became blue rather than the more typical muddy brown and with 40+ dinghies and yachts sailing in Saltpan Reach, it was a fine scene.
After Queenborough Spit, there was a beat back to Stangate Creek followed by a short reach to the orange pillar mark half way up the creek. The main windward part of the course back to buoy 12 now started and place changing began in earnest. In the Wayfarers, Stewart and Catriona Coltart had led to Stangate Spit but a couple of tacks on the wrong side of the considerable wind oscillations put paid to that with Richard Stone and Catherine Gore, Brian Lamb/Sam Pygell and Brian and Liz Mckenzie slipping through. If any reminders are required, it shows the importance of using wind shifts to change positions as all the boats in the race were well sailed to their PYI.
There was some tacking up Long Reach but little opportunity for tactical beating until we all passed buoy 29, to starboard for a change. The final beat up Heartbreak Reach brought further tactical chances in the fluky and lightening winds before we finished at the MYC after some 4-5 hours on the water.
A BBQ lunch/tea, it was 3.30pm after all, and beer donated by Old Dairy Brewery rejuvenated the sailors whilst awaiting the prize giving.
Overall, Richard Stone/Catherine Gore won the fine silver Medway Command Trophy with Brian Lamb/Sam Pygell second and Stewart/Catriona Coltart third. Wayfarers filled the top 8 places and the conditions appeared favourable for the Wayfarer handicap against the asymmetric boats which lacked the ability to use their superior off wind speed in the light winds.
Alistair Bolton sailed his laser radial well to win the Half Marathon, Gail Penny was the first woman helm winning the Molly Leonard Trophy, Robert and Rachael Crockett won the Medway Bell Trophy and Christine and Graham Halliday-Sadler won the Roger Chapman Trophy for the first Squib.
Many thanks to the Race Officers under Tim Townsend (I know he would have preferred to be on the water), the MYC Sailing Committee for some excellent organisation under Catherine Gore and the many kind rescue and guard boat crew who gave their time so willingly.