Saturday 8th August -10:30 am start at the Club Line.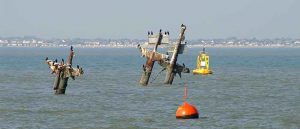 The annual round the Montgomery fun race is this coming Saturday. The event is ideal for cruiser owners who don't usually race their craft, as there is more fun than racing.
There is a choice of easy courses for those not wanting to make a trip into the estuary or those owning smaller boats.
Longer Race
10.30 start on club line
Blackstakes to port
Montgomery to port
Queenborough Spit to starboard
Finish between the Concrete lighter and all tide landing
Shorter Race
10.30 start on club line
Blackstakes to port
South Kent to starboard
Queenborough Spit to Starboard
Finish between the concrete lighter and the all tide landing.
Blackstakes is a yellow can on the south shore past the entrance to Stangate Creek. It helps keep the racing boys away from the LPG terminal and upsetting the harbour master etc…!
Look at what you can win – The Montgomery Trophy.
I've booked the concrete lighter on our behalf and can also book moorings if required.
There is a BBQ arranged ashore late afternoon at the Old House at Home, the first pub you find at the end of the pontoon.
BUT!
An idea of numbers would be most helpful in advance please. You are of course welcome to play it by ear on the day and join in but letting me know via email by Wednesday evening would be sensible if you want this to run like clock work.
Look forward to seeing you there!
David Boakes
david.boakes@btinternet.com
On behalf of MYC Cruiser Class