Medway Dragon Fleet
The Medway Dragon fleet, one of the premier Dragon fleets in the UK, is both highly competitive and immensely social with busy sailing and social programs. The beautiful and timeless International Dragon is a MYC sponsored class enjoying class starts, reserved moorings and representation on MYC Sailing Committee.
The fleet race as a one design class with a regular class start on Saturday afternoons.  There are also opportunities to race against other keel boats and classes under the RYA NHC handicap system on Wednesday evenings and Sundays.
The tidal river Medway and the Thames Estuary described by the boat designer and outstanding yachtsman Uffa Fox as " a wonderful spot for sailing, the river winds and turns and gives a test on all points of sailing, no matter what direction the wind is blowing" provides our first class racing and cruising area.  MYC regularly host regional and national open meetings including the International Dragon East Coast Championship.  Medway Dragon Fleet members regularly travel individually and collectively to open meetings in the UK and continental Europe.   
First Class Facilities
MYC offers a comprehensive range of facilities that make MYC an ideal place to race a Dragon.
Dragons can either be dry sailed or kept on reserved swinging moorings.  Moorings are accessed from a deep water pontoon that provides access at all states of the tide. During the sailing season moorings are serviced by MYC trot boat service.
A mechanical scrubbing trolley is available for either owners to scrub their own boats or staff to scrub boats ready for racing.
Staff  using the MYC 14 ton Wise travel hoist provide a dry sailing service where boats are launched and recovered without owners needing to be present.
Dragon History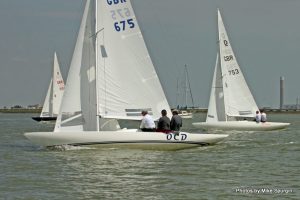 The International Dragon was designed by Norwegian Johan Anker in 1929 and became an Olympic class in 1948 a status it retained until the Munich Olympics in 1972.  The Dragon's long keel and elegant lines remain unchanged, but today Dragons are constructed using the latest technology to make the boat durable and easy to maintain. GRP construction was introduced in 1973 and the rigging has been regularly updated.The Dragon Class is actively represented in over 26 countries in 5 Continents. There were 1444 boats registered in 2004 and the number of boats built has averaged 45 per year.
Getting started
The best start you can have is to come and join in on a Saturday and have a trial sail Give us a couple of weeks notice and we will make sure there is a dragon and helm available either email the  Dragon Class Captain Chris Brealy or leave your details in the contact form at the bottom of the page.